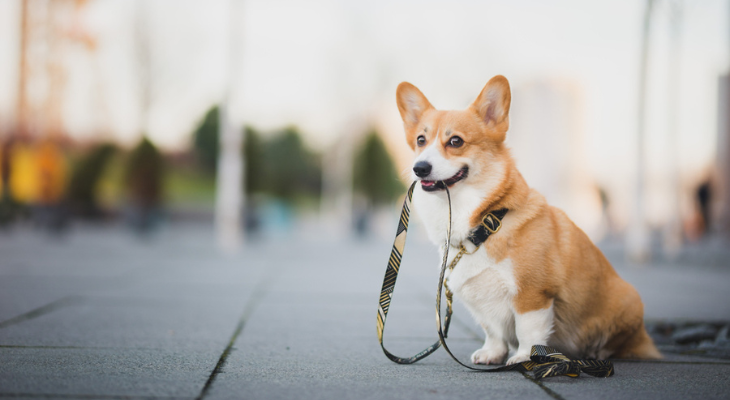 Ready for a Walk? How Daily Walks Improve Your Dog's Life
Does your dog become uncontrollably excited every time you mention the word "walk"? Your pet's reaction isn't surprising. Walks give your furry friend the perfect opportunity to explore the interesting smells and sights in your neighborhood, while also providing much-needed exercise. Not sure your dog really needs walks? Consider these four important benefits:
Walks Help Your Pet Expend Excess Energy
After a long day stuck inside, your pet may be more than a little rambunctious. Walks help your pet release that pent-up energy naturally and could even reduce destructive urges.
Is running your favorite form of exercise? If your dog is active and in good health, it may enjoy running with you. The American Kennel Club (AKC) suggests waiting until your dog is at least 1 1/2 years old before you bring it along on a run and recommends gradually increasing the intensity and duration of your runs. Long-distance running isn't a good idea for dogs with short noses, like bulldogs and pugs, according to the AKC.
Worried About Your Pet's Weight? Staying Fit Is Easier with Daily Walks
Obesity rates are rising in the US for both people and pets. In fact, 59% of dogs are overweight or obese, according to a survey from the Association of Pet Obesity Prevention. Walks help your pet maintain a healthy weight, keep muscles and bones strong, and offer heart and lung health benefits. Even older dogs can benefit from walks. In fact, walking can reduce joint stiffness in dogs with arthritis as long as you don't overdo it. Short walks are best if your dog is old or has health issues.
Daily Walks Offer Mental Stimulation
Walks are good for your dog's mental health. During walks, dogs explore the world around them by taking frequent breaks to investigate intriguing odors or watch a squirrel climb a tree. These mentally stimulating scents and sights help your dog stay alert and may even reduce anxiety and improve your pet's mood. In a study published in Applied Animal Behaviour Science, dogs allowed to sniff their surroundings were more optimistic than dogs required to heel, or stay by a trainer or owner's side.

Walking Provides Socialization Opportunities
You're likely to meet a few people on your walks, some of whom may be walking their own dogs. Through these encounters, your pet learns how to respond confidently to new situations and interact with other dogs and people. When socialization starts at a young age, puppies are less likely to become fearful or aggressive as adults, according to Veterinary Medicine.
Tips for Walking Your Dog
Follow these suggestions for stress-free walking:
Do a Dry Run. Practice walking your dog on a leash or harness in your home or backyard before you hit the streets. Train your pet not to pull on the leash by coming to a halt as soon as you feel a tug. Resume walking when the pulling stops. If your dog jumps on people or is aggressive to people or other dogs, you may want to enroll your pet in a training class before attempting walks in public.
Update Your Pet's Shots. Unvaccinated pets can pick up germs and worms from other dogs or even from the feces they leave behind. Follow PetMD's advice and don't take a puppy for a walk until it's been fully vaccinated (usually about 18 weeks). Older dogs should have up-to-date vaccinations too if they'll be around other pets.
Start Slowly. Whether you're walking a puppy or an older dog, start with short walking sessions before gradually increasing the duration. Veterinarian Dr. Grant Little told Newsweek that 20 minutes of exercise at a time is ideal for small dogs, while large dogs can handle 30- to 60-minute walks.
Break It Up. Following the same path can become boring for people and pets. Vary your route, or stop by the trails at a local park.
Do you have a question about your dog's health or need to vaccinate your pet before starting daily walks? Give us a call, and we'll be happy to discuss your concern or schedule a visit with the veterinarian if necessary.
Sources:
American Kennel Club: How to Train Your Dog to Run with You: Tips for Running with Dogs, 4/1/2022
https://www.akc.org/expert-advice/training/how-to-train-your-dog-to-run-with-you/
ScienceDirect: Applied Animal Behaviour Science: Let Me Sniff! Nosework Induces Positive Judgment Bias in Pet Dogs, 2/2019
https://www.sciencedirect.com/science/article/abs/pii/S0168159118304325?via%3Dihub
Veterinary Medicine: Puppy Parties and Beyond: The Role of Early Age Socialization Practices on Adult Dog Behavior, 4/29/2015
https://www.ncbi.nlm.nih.gov/pmc/articles/PMC6067676/
Association of Pet Obesity Prevention: 2022 Surveys and Data
https://www.petobesityprevention.org/2022
Newsweek: How Long You Should Be Walking Your Dog Based on Their Breed, 6/5/2023
https://www.newsweek.com/how-long-walking-dog-based-breed-vets-1802937
The Animal Foundation: The Importance of Walking Your Dog, 9/25/2018
https://animalfoundation.com/whats-going-on/blog/importance-walking-your-dog